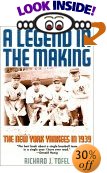 Richard Tofel. A Legend in the Making: New York Yankees in 1939.
The year the Yankees won the Series; the year they heard baseball's Gettysburg Address - Gehrig delivers his farewell speech. List price $24.95.
I am interested in Tofel's book


Leo Trachtenberg. The Wonder Team: The True Story of the Incomparable 1927 New York Yankees.
Gehrig was a part of this "incomparable" team. This was the year he won his first MVP award - as well as gave Babe Ruth a run for his money. List price $13.95.


Richard Lally. Bombers: An Oral History of the Yankees.
A much-loved book about the good ol' boys. Good info on Gehrig. List price $25.00.
I am interested in Lally's book


Maiorana, Salvatore. A Lifetime of Yankee Ocotobers.
Gehrig on the cover! List price $24.95.
I am interested in Maiorana's book


Anderson, David (ed). New York Yankees: Illustrated History.
Put together by the New York Times. A newborn book; published Nov. 1, 2002. List price $29.95.