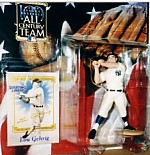 Hasbro's Starting Lineup, 1999. Local retail store, $12 in 1999. Figure 4" tall; companion collectible to MLB's All Century Team (announced in 1999). Comes with collectible card.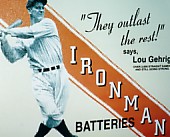 Desperate Enterprises, 1996. Ebay, $11 in 2001. Replica of an Ironman Batteries sign originally released in 1938. "'They outlast the rest,' says Lou Gehrig.' Made of tin and has nail holes in ever corner; 13x16.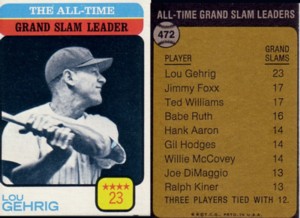 Topps, 1976. Ebay, $5 in 2002. A card from this series had a cameo in the 1985 movie The Goonies.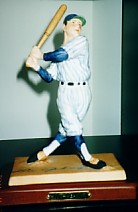 Hasbro's Starting Lineup, 1988. Ebay, $75 in 2001. Two-piece limited edition set. Ceramic figure 7" tall with wooden base that has a gold name plate on the front. Hand-painted with "4" on back of jersey. Lou Gehrig's replicated signature next to his feet. Very prized addition to any Gehrig collection.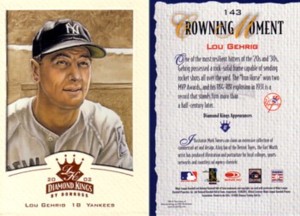 Donruss, 2002. Ebay, $5 in 2002. "Diamond Kings" series. Multilayered card with painting-like picture. Absolutely beautiful card.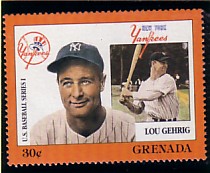 USPS (Grenada), 1988. Ebay, $4.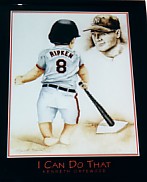 Kenneth Gatewood, 1995. Local retail store, $12 in 1997. Print of Kenneth Gatewood's painting honoring Ripken's chase of Gehrig's consecutive games record; 8x10.




Hasbro's Starting Lineup, 1996. Wal-Mart, $15 in 1997 (clearance). Only 4 players were released in this the Cooperstown Collection. The doll- yes, doll- is 12" tall; fully poseable if you're dumb enough to take it out of the box to play with it; comes with cotton removable clothes if your weird enough to play with a naked doll; a baseball glove and ball; and a real-wood bat that is 3/4 the length of the doll. The inside flap of the box has a blurb about Lou Gehrig.